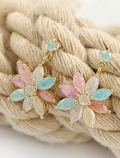 Time : 2021-08-24 23:51:39
Dear Ms. Mary Jones,

I am very glad to receive your letter. Thank you so much for your compliment on my way of working. It makes me happy to know you feel satisfied with what I have brought to your newly opened flower shop. Honestly speaking, your appreciation gave me great encouragement to do better.

In fact, I always understand that customers' satisfaction is a decisive factor for our success. Also, I also know that your opening the shop not only marks the beginning of your shop's business activities, but also have an opportunity in order that your shop can promote to the public and partners about the products and services that your shop provides. Furthermore, you chose our company to give you some advice on opening a flower shop which was an honor for our company. Therefore, I tried my best to meet all your expectations.

Once again, I would like to express our gratitude to you for having believed and cooperated with us. I hope that your business will go smoothly. Please write to me when the flower shop opens in order for me to come and congratulate you. Besides, I am also looking forward to our other successful cooperation in the future.

Best regards,
Ms. Lee
Nhận xét của giáo viên :
Dear Ms. Mary Jones,

I am very glad to receive your letter nên dùng mệnh đề quan hệ để chỉ rõ nội dung chính của thư đề bài. Thank you so much for your compliment on my way of working. It makes me happy to know you feel satisfied with what I have brought to your newly opened flower shop. Honestly speaking, your appreciation gave me great encouragement to do better.

In fact, I always understand that customers' satisfaction is a decisive factor for our my (dùng ngôi thứ nhất số ít, thư được gửi tới cụ thể tên bạn)success. Also, I also know that your opening dùng danh động từ làm chủ ngữ, không thêm tính từ sở hữu the shop not only marks the beginning of your shop's business activities, but also have chú ý chia động từ theo chủ ngữ ngôi thứ ba số ít, tương quan khi dùng not only ... but also, nên dùng động từ creates (tạo ra cơ hội) an opportunity in order that your shop can promote provide to the public and partners about with the products and services that your shop provides. Furthermore, you chose our company to give you some advices on opening a flower shop which was an honor for our company. Therefore, I tried my best to meet all your expectations.

Once again, I would like to express our gratitude to you for having believed and cooperated with us. I hope that your business will go smoothly. Please write to me when the flower shop opens in order for me to that I can (dùng mệnh đề chỉ mục đích) come and congratulate you. Besides, I am also looking forward to our other successful cooperation in the future.

Best regards,
Ms. Lee
Bạn viết bài cơ bản phản hồi được nội dung chính của bài, song các hoạt động giúp đỡ được đề cập đến ở thư đề bài bạn chưa chỉ rõ, đặc biệt ở đoạn 2 bạn viết ý chưa được thuyết phục khi đề cập đến việc mở cửa hàng hoa mang lại cái gì. Cố gắng hơn nhé.