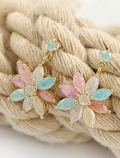 Time : 2021-08-31 23:27:45
Dear Mr. Jack Dylan,

I received your letter regarding missing your date with me. Actually, I feel a little bit hopeless when I made an appointment with you on Saturday as planned. However, after reading your letter, I totally sympathize with your job, and I understand that it is the doctor's responsibility to save the patient in such an emergency. Therefore, it does not matter if you miss your appointment with me and please do not blame yourself.

Regarding my appointment next Thursday, I am sorry. Next Thursday, my workload seems to increase, so I do not have time to meet you as planned. Therefore, I wonder whether I could make it on Saturday at 2p.m. Please let me know if you have free time.

I hope everything is still under control in your job. I look forward to seeing you next Saturday.

Best regards,
Mr. Anders
Nhận xét của giáo viên :
Dear Mr. Jack Dylan,

I received your letter regarding missing your date with me. Actually, I feel a little bit hopeless disappointed when I made you missed an appointment with you me on Saturday as planned. However, after reading your letter, I totally sympathize with your job, and I understand that it is the doctor's responsibility to save the patient in such an emergency. Therefore, it does not matter if you miss your appointment with me and please do not blame yourself.

Regarding my appointment next Thursday, I am sorry. Next Thursday, my workload seems to increase, so I do not have time to meet you as planned. Therefore, I wonder whether I could we can make it on Saturday at 2p.m. Please let me know if you have free time.

I hope everything is still under control in your job. I look forward to seeing you next Saturday.

Best regards,
Mr. Anders
Nhìn chung, bạn phản hồi khá rõ ràng các ý cũng như nội dung phản hồi, song thái độ của bạn khi bị lỡ hẹn cũng như khi diễn đạt ý ở đoạn đầu chưa được chính xác. CHú ý nhé.