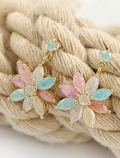 Time : 2021-09-28 23:43:46
Dear Adib,

I am very glad to receive your letter after such a long time. To be honest, I feel a bit sorry because you were busy meeting a customer in Turkey so you could not see a concert which you were expecting. Therefore, you decided to offer me the concert ticket. In fact, I appreciate your good intentions because you know I adore watching Arash perform. Indeed, I am his fan and I want to know more about him in real life, too. However, I am afraid I will not be able to see this concert.

Unfortunately, my father has had kidney stones for a long time. He took forever to cure his treatment but his disease still did not improve. Now, his disease is getting so bad that he cannot even drink water and cannot even get out of bed. At present, my family takes turns going to the hospital to take care of my father every day and everyone in the family is worried about my father's health. Therefore, that is a reason why I refuse to accept the concert ticket which you want to give me. I am sorry that I missed the chance to see the music that I idolize singer Arsah. I am really sorry about this.

I hope that I will have the opportunity to see the concert with you on another occasion. Besides, I believe that with your intelligence and your dynamism, you will sign the contract to the customer in Turkey. Don't work too hard and remember to take care of yourself carefully. Best wishes for our intimate friendship.

Best,
Tom
Nhận xét của giáo viên :
Dear Adib,

I am very glad to receive your letter after such a long time. To be honest, I feel a bit sorry because you were busy meeting a customer in Turkey so you could not see a concert which you were expecting. Therefore, you decided to offer me the concert ticket. In fact, I appreciate your good intentions offer to give me the ticket because you know I adore watching Arash perform. Indeed, I am his fan and I want to know more about him in real life, too. However, I am afraid I will not be able to see this concert.

(Unfortunately, my father has had kidney stones for a long time. He took forever to cure his treatment but his disease still did not improve. Now, his disease is getting so bad that he cannot even drink water and cannot even get out of bed. At present, my family takes turns going to the hospital to take care of my father every day and everyone in the family is worried about my father's health) hơi dài dòng, bạn cần cô đọng ý hơn, viết ngắn gọn hơn: bởi vì bố bị bệnh và bạn phải chăm sóc ông ấy. Therefore, that is a reason why I refuse to accept get the concert ticket which you want to give me. I am sorry that I missed the chance to see the music of the singer that I idolize singer Arsah. I am really sorry about this.

I hope that I will have the opportunity to see the concert with you on another occasion. Besides, I believe that with your intelligence and your dynamism, you will sign the contract to the customer in Turkey. Don't work too hard and remember to take care of yourself carefully. Best wishes for our intimate friendship.

Best,
Tom
Bạn viết bài cơ bản có ý tưởng hay khi từ chối đề nghị tặng vé xem hòa nhạc cho bạn, song bạn diễn đạt ý chưa cô đọng, chưa thuyết phục, có nhiều ý chưa được rõ ràng lắm. Cố gắng hơn nhé.