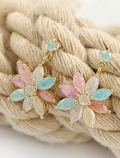 Time : 2021-10-12 23:54:08
Dear Mr. Jimmy Lisbon,

I sincerely apologize for the inconvenience that you have experienced during the past days. I honestly did not know that my dog barked in a loud voice that it disturbed you and affected your exam preparation until I received your letter. To be honest, this is my fault because I have not taken care of my pet carefully yet. Therefore, I wish I could get any sympathy from you for bad actions that are caused by my dog, simultaneously, I will solve your complaint problem as follows.

Tomorrow, I will have my dog look after by my grandmother who lives 12 kilometers far away from my neighborhood. When you finish your exam, I will bring her back and train her strictly so that she will not disturb your peace in the future.

Actually, you and I are good neighbors so if you have any other problem, please let me know. I am certain to help you. I wish you would accomplish the exams with high scores.

Kind regards,
Julie Seth

Nhận xét của giáo viên :
Dear Mr. Jimmy Lisbon,

I sincerely apologize for the inconvenience that you have experienced during the past days. I honestly did not know that my dog barked in such (dùng cấu truccs câu such ...that (quá ...đến nỗi...) a loud voice that it disturbed you and affected your exam preparation until I received your letter. To be honest, this is my fault because I have not taken care of my pet carefully yet. Therefore, I wish I could get any sympathy from you for bad actions that are caused by my dog, simultaneously, I will solve your complaint problem as follows.

Tomorrow, I will have my dog looked (have sth done by sb: cấu trúc bị động với động từ have) after by my grandmother who lives 12 kilometers far away from my neighborhood. When you finish your exam, I will bring her back and train her strictly so that she will not disturb your peace in the future.

Actually, you and I are good neighbors so if you have any other problem, please let me know. I am certain to help you. I wish you would accomplish the exams with high scores.

Kind regards,
Julie Seth đề bài yêu cầu bạn là Kate nhé (As if you are Kate, read the letter and give a suitable response.)
Bài viết của bạn vơ bản giải quyết được vấn đề phản hồi, song ý của bạn chưa được hoàn thiện lắm khi bạn chưa đề cập đến việc học tập và giấc ngủ của Jimmy Lisbon bị ảnh hưởng bởi con chó của bạn (bạn đang viết rất chung chung ý: bad actions).